Standard Delivery
Standard delivery times using AusPost to Australia are dependent on your region. An estimate is provided in the Checkout once you've selected your default delivery address. Alternatively, you can use the Delivery Estimator on the product page to get an estimate: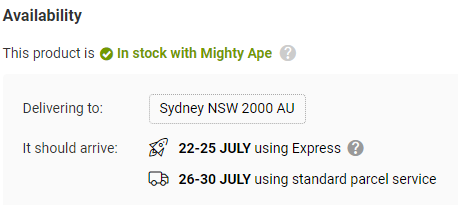 The current standard delivery times for In Stock with Mighty Ape products using Australia Post are as follows:
| | |
| --- | --- |
| QLD | 2-5 business days |
| NSW | 3-6 business days |
| ACT | 4-8 business days |
| VIC | 5-7 business days |
| SA | 6-8 business days |
| TAS, WA | 5-8 business days |
| NT | 7-10 business days |
DHL Express Delivery
Orders shipped via DHL Express are delivered within 1–2 business days (usually overnight) to metro areas. Over 70% of addresses in Australia are considered metro including most central suburbs in Australia's largest cities including Brisbane, Sydney, Melbourne and Hobart. Remote areas including parts of Perth and most rural locations take an additional day.
An accurate Express Delivery time will be quoted to you in the Checkout, based upon your selected delivery address and the stock status of products contained in your order.
Please note that DHL Express cannot be selected when shipping to a PO Box.